Next Generation Sonoran Desert Researchers
––– Call for Research Grant Proposals –––
The 2017 Call for Proposals was closed on August 31
A call for pre-proposals will be forthcoming in Spring 2018
N-Gen Research Grants are designed to provide financial support for members of the N-Gen community conducting research in the Sonoran Desert. N-Gen invites proposals for original student and collaborative research, with preference always given to proposals that take a synthetic and transdisciplinary approach (perspectives that seek to transcend the boundaries of individual disciplines) to various topics in the larger Sonoran Desert region and associated marine and coastal areas. Submissions that incorporate multinational research, or the fusion of art and science, scientific journalism, as well as traditional academic perspectives, are welcome. We invite proposals from researchers investigating topics ranging from natural resources, sociology, conservation, natural and biological sciences, border issues, anthropology, arts and humanities, and other topics that align with the vision and goals of the N-Gen community. This call for proposals encompasses the JiJi Foundation's small grants program, and all related proposals should be submitted here.
The grants program will include two independent funds. Projects will be of one-year duration, with no restriction on applicant affiliation:
(A) Student Research Grants (up to $1,500 USD each)
(B) Collaborative Research Grants (up to $5,000 USD each)
Please click this link for the detailed call for proposals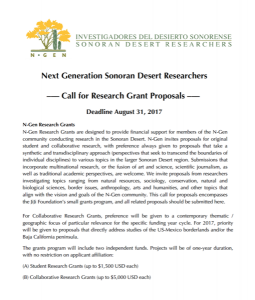 Click this link for the N-Gen Research Grants Budget Template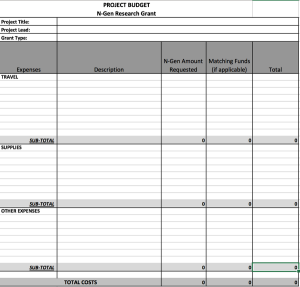 Contact N-Gen with additional questions regarding this request for proposals at nextgensd2012@gmail.com.