Expedition to the Baja California Pacific Islands (2015)
Expedition summary
In the spring of 2015, a group of botanists, herpetologists, cultural anthropologists, and naturalists, led by Dr. Sula Vanderplank, departed San Diego Harbor on an expedition to the coastal Pacific islands of Baja California, Mexico. Between March 28th and April 5th, the Shogun and her crew carried the research team to 7 unique islands and island groups, many of which are rarely visited by scientists. Besides soaking in the breathtaking beauty of these wild places, the team updated long neglected species lists, collected specimens of plants and animals, and took copious photographs. Results included discovering new populations of long-lost plants and animals, as well confirmation of the absences of rare species likely now extinct. In addition, new arrivals were documented for various islands, highlighting the fragility and dynamic nature of insular ecosystems. The publication, Unique Plants and Animals of the Baja California Pacific Islands, available free for download here is the product of this expedition.
Book Abstract
This book is a guide to the real treasures of the Baja California Pacific Islands, their endemic plants and animals, found here and nowhere else on the earth. The authors of this book have identified a total of 69 endemic species or subspecies from the islands that run along the coast of Baja California: Islas Coronado, Todos Santos, San Martín, San Jerónimo, San Benito, Cedros, and Natividad. The endemic biota comprises 35 species or subspecies of plants, 15 reptiles, 8 birds, and 11 mammals, a surprisingly large number for islands so close to the mainland, underscoring the unique oceanic nature of these insular ecosystems. The guide is written in simple language, and each species is represented with clear photos in full color. It will become a fundamental tool for any researcher, naturalist, or conservationist interested in this unique region of Mexico.
Vanderplank, S., A. Peralta-García, J.H. Valdez-Villavicencio, and C. De la Rosa. 2017. Plantas y animales únicos de las islas del Pacífico de Baja California/Unique Plants and Animals of the Baja California Pacific Islands. Sida, Bot. Misc. 46. Botanical Research Institute of Texas, Fort Worth, Texas, USA. 134 p.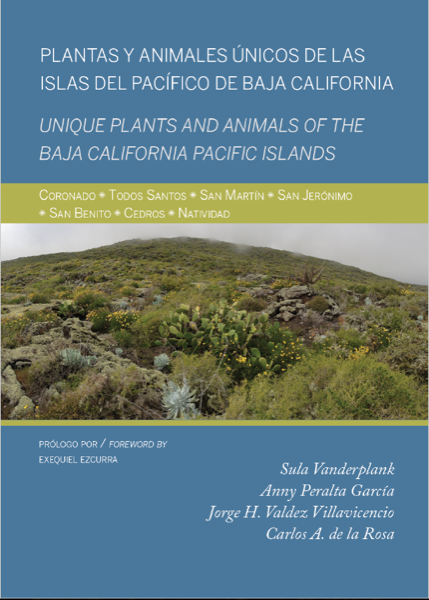 To purhcase a hard copy version of the book, please visit this site: https://shop.brit.org/products/baja-california-pacific-islands